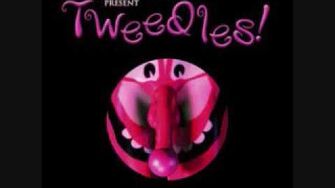 "Tweedles" is a concept album by the Residents. The story revolves around a sexual predator that has numerous internal conflicts. It is soon found out that he has a alter-ego in the form of a clown name Tweedles, and he dreams to be an entertainer. It was released in 2006.
Track Listing
Edit
- Dreams
- Almost Perfect

 - Mark of the Male
- Life
- Isolation
- Stop Signs
- Elevation
- Forgiveness
- Insincere
- The Perfect Lover
- Brown Cow
- Sometimes
- Ugly (At the End)
- Keep Talkin'
- Shame on Me
- Susie Smiles
- The cd was released in two forms- one in a jewl case, and and in a hardback book.
- There was a prerelease version of this album, which came with a booklet. The cd came with the normal jewl case catalouge number.
- There is an instrumental version of this album, named "Tabasco". It was released as an mp3 in 2010.