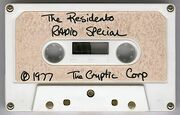 "The Residents' Radio Special" is a radio special/ cassette by The Residents. It aired on KBOO, and was hosted by "Syd Powell" with Jay Clem. It involved Syd interviewing Jay, while insulting him, and The Residents. The songs themselves are from singles or wereunreleased (At least at the time). The show ends with Syd Powell getting into an loud argument with Jay, with The Residents drowning it out with the "Walter Westinghouse" chorus.
Track Listing
Edit
- Intro
- Death In Barstow
- Interview
- Beyond the Valley of a day in the life
- Flying
- Satsifaction
- Interview
- Loser= Weed
-Interview
- Melon Collie Lassie
- Interview 
- Santa Dog Medley
- Interview
- King Kong ("Baby Sex" version)
- Interview
- Kamakazi Lady ("Baby Sex" version"0
- Whoopy Snorp ("Blorp Essette")
- Interview
- Walter Westinghouse
- Credits
- The special is the first place where songs from "Baby Sex" were heard.
- Syd Powell is actually played by Homer Flynn, and Jay Clem plays himself.
- KBOO is owned by The Residents' close friend, Bill Reinheart, who aired residents demos earlier. So, he kindly allowed The Residents to play this on air.
-Since the special, "Kamakazi Lady", "Whoopy Snorp", and "Walter Westinghouse" have all been released on "Residue of The Residents".
Ad blocker interference detected!
Wikia is a free-to-use site that makes money from advertising. We have a modified experience for viewers using ad blockers

Wikia is not accessible if you've made further modifications. Remove the custom ad blocker rule(s) and the page will load as expected.