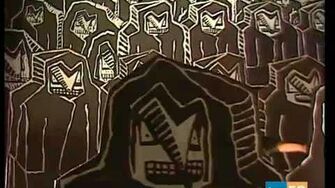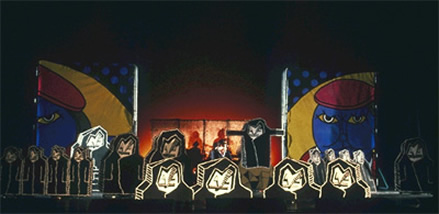 "The Mole Show" was the first public performance by The Residents. In the performance, they played songs from "Mark of The Mole", and "Tunes of Two Cities". It was hosted by Penn Jillette (of Penn and Teller) . The concert had a series of professional dancers, and the sets were brightly painted pieces of cardboard. The Moles are also seen as cardboard models. The show ended up becoming a financial disaster, and Ralph Records almost went bankrupt. Many of the workers didn't enjoy working with The Residents, and also didn't like wearing the Groucho Mark glasses. In 1984, the tour ended.
Track Listing
Edit
- Voices of The Air
- The Secret Seed
- Introduction
- Won't you keep us working?
- First Warning
- Back to Normality
- The Sky Falls!
- Narration
- God Of Darkness
- More Narration
- March To The Sea
- The Observer
- Hole Workers' New Hymn
- Rumors
- Arrival 
-Deployment
- Saturation
- Still More Narration
- Idea
- Construction
- Ugly Rumors
- Failure/ Reconstruction
- Success
- Upset Narration
- Call of The Wild
- Driving The Moles Away
- Don't Tread On Me
- The Short War
- Frantic Narration
- Residents Speech
- Satisfaction
- Happy Home 
Ad blocker interference detected!
Wikia is a free-to-use site that makes money from advertising. We have a modified experience for viewers using ad blockers

Wikia is not accessible if you've made further modifications. Remove the custom ad blocker rule(s) and the page will load as expected.