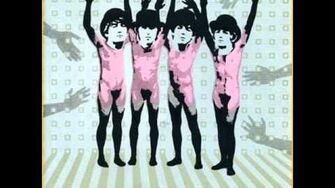 "The Beatles Play The Residents and The Residents Play The Beatles" is a 7" single released by The Residents. The A side is a collage of tape loops from various Beatles songs. The B side is a cover of a track off of the "Magical Mystery Tour" album. It was released as a limited edition of 500 copies in 1977. 
Track Listing
Edit
- Beyond the Valley of a Day in the Life
- Flying
- Both tracks on this single have appeared as bonus tracks for cd reissues of "The Third Reich and Roll", and also appeared on "The Residents' Radio Special", and numerous compilations.
- "Flying" was chosen by The Residents because it is one of the only Beatles track written by all four of the members.
Ad blocker interference detected!
Wikia is a free-to-use site that makes money from advertising. We have a modified experience for viewers using ad blockers

Wikia is not accessible if you've made further modifications. Remove the custom ad blocker rule(s) and the page will load as expected.