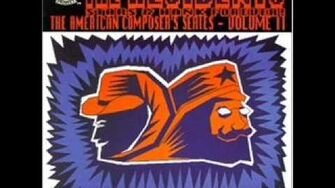 "Stars and Hank forever!" is the second, and final album in the "American Composer series" by The Residents. The album contains the music of Hank Williams, and a medley of marches written by John Phillip Sousa. It was the final album released on Ralph records, and the last time Snakefinger collaborated with The Residents in a studio.
Track Listing
Edit
- Hey, Good Lookin'
- Six More Miles (To The Graveyard)
- Kaw- Liga
- Ramblin' Man
- Jambalya 
Sousa Side
- Nobles of the Mystic Shrine
- Stars and Stripes Forever
- The Thunderer
- The Liberty Bell
- Semper Fidelis
- The Washington Post
- "Six More Miles" was performed live at "The Snakey Wake", and "Talking Light" shows.
- A tour was planned for this album in 1986.
- "Stars and Stripes Forever" has a video that appeared in the cd- rom "Bad day on the midway", and on the "Icky Flix" dvd. 
- "Kaw- liga" has a 12" single, and multiple remixes on lp and cd. 
Ad blocker interference detected!
Wikia is a free-to-use site that makes money from advertising. We have a modified experience for viewers using ad blockers

Wikia is not accessible if you've made further modifications. Remove the custom ad blocker rule(s) and the page will load as expected.