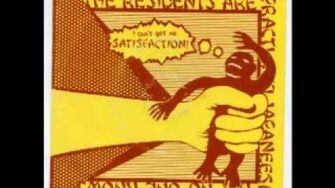 "Satsifaction" is a single by The Residents. It was released to promote " The Third Reich N' Roll", although it wasn't actually on the album. It was a huge success, and was a big hit for punk and avant- garde fans. It was released two years later in 1978, but it was pressed in yellow vinyl. 
Track Listing
Edit
- Satsifaction
- Loser= Weed
- Both of the tracks appeared on "The Residents' Radio Special".
- Both tracks were included as bonus tracks on a "Third Reich N' Roll" CD reissue.
Ad blocker interference detected!
Wikia is a free-to-use site that makes money from advertising. We have a modified experience for viewers using ad blockers

Wikia is not accessible if you've made further modifications. Remove the custom ad blocker rule(s) and the page will load as expected.