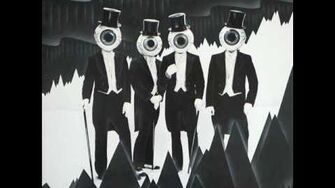 "Ralph Before '84" is a series of compiliations released by Ralph Records. Volume one contains all Residents songs. Both volumes were released in 1984.
Track Listing
Edit
- It's a Man's, Man's, Man's World
- Diskimo
- Hello Skinny
- I Left my Heart in San Francisco
- Happy Home
- Smack Your Lips
- You yesyesyes
- Jailhouse Rock
- Monkey and Bunny (The Residents and Renaldo and the Loaf)
- Excerpt of "The Festival of Death"
" I Left my Heart in San Francisco" appeared on an earlier compiliation,"Subterranean Modern", along with "Dumbo the Clown", "Is he really bringing roses?", and "Time's Up" in 1979. 
Ad blocker interference detected!
Wikia is a free-to-use site that makes money from advertising. We have a modified experience for viewers using ad blockers

Wikia is not accessible if you've made further modifications. Remove the custom ad blocker rule(s) and the page will load as expected.