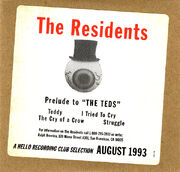 "Prelude of The Teds" is a cd ep released by The Residents. It contains four tracks recorded for "Hello Recording Club". It was released in 1993.
Track Listing
Edit
- Teddy
- I Tried to Cry
- Cry of the Crow
- Struggle
- All of these tracks later appeared on "Roosevelt" from the box set "Our poor, our tired, huddled masses" in 1997.
- "Struggle" shares a strong resemblence to "I'm dreaming of a White Sailor", suggesting that they may have written these compositions at the same time as "Our Finest Flowers".
Ad blocker interference detected!
Wikia is a free-to-use site that makes money from advertising. We have a modified experience for viewers using ad blockers

Wikia is not accessible if you've made further modifications. Remove the custom ad blocker rule(s) and the page will load as expected.