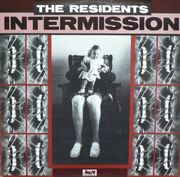 "Intermission" is an ep released by The Residents. It contains songs performed at rehearsels/ the intermission of The Mole Show. It was released in 1982.
Track Listing
Edit
- Lights Out (Prelude)
- Shorty's Lament (Intermission)
- The Moles are Coming (Intermission)
- Would we be Alive? (Intermission)
- The New Hymn (Recessional)
- "The New Hymn" is a remade version of an excerpt of "Migration" from "Mark of the Mole", and its original name was "Hole Worker's New Hymn".
- "Lights Out" was reused for the "Census Taker" soundtrack.
Ad blocker interference detected!
Wikia is a free-to-use site that makes money from advertising. We have a modified experience for viewers using ad blockers

Wikia is not accessible if you've made further modifications. Remove the custom ad blocker rule(s) and the page will load as expected.