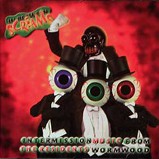 "In Between Screams" is a CD released by The Residents. It consists of the music played during intermissions of the "Wormwood" tour. It was released as a limited edition of 1,000 in 1999.
Track Listing
Edit
- In Between Screams (Intermission Music from The Residents' Wormwood)
- It was distributed in a slimline case.
- It only came with a front card, and no back inlay.
- It was only sold at "Wormwood" concerts.