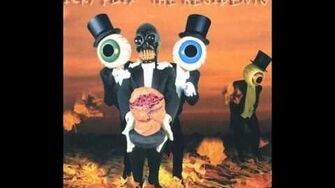 "Icky Flix (Original Soundtrack Recording)" is an album by The Residents. It contains new versions of the tracks that appear on the "Icky Flix" dvd. It was released in 2001.
Track Listing
Edit
- Icky Flix (Theme)
- Third Reich N' Roll
- Just for You (Disfigured Night pt.7)
- Songs for Swinging Larvae
- Bad Day on the Midway
- Kick a Picnic
- The Gingerbread Man
Vileness Fats
- VF Title
- VF Mom's House
- VF The Cave 1
- VF The Banquet Hall
- VF The Night club 1 (Eloise)
- VF The Cave 
- VF The Night Club 2
- Icky Flix Closing theme
- The cd came with a booklet.
- "Songs for Swinging Larave" is a medly combining covers of "Spratt's Medium", "Lime Jelly Grass", and "Melvyn's Repose" from Renaldo and the Loaf's 1981 album of the same name.
Ad blocker interference detected!
Wikia is a free-to-use site that makes money from advertising. We have a modified experience for viewers using ad blockers

Wikia is not accessible if you've made further modifications. Remove the custom ad blocker rule(s) and the page will load as expected.