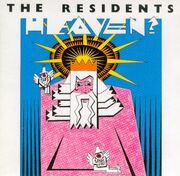 "Heaven? /Hell!" is a two CD set released by The Residents.  "Heaven?" contains the poppier Residents tracks, while "Hell!" compiles the darker, more experimental songs. They were both released in 1986.
Track Listing (Heaven? and Hell!)
Edit
- Hellno
- The Importance of Evergreen (Excerpt)
- Its a Man's, Man's, Man's World
- Japanese Watercolor
- I Got Rhythm
- Ups and Downs
- Serenade for Missy
- Easter Woman
- Amber
- The Census Taker
- The Moles are Coming
- Resolution?
- Happy Home
- Crashing
- Red Rider
- Floyd
- Mahogany Wood
- Kula Bocca Says So
- Love Leaks Out
- Simple Song
- New Hymn 
- Whatever Happened to Vileness Fats?
- Festival of Death (Excerpt)
- Twinkle
(Hell!)
- The Ultimate Disaster (Excerpt)
- Lights Out
- Where is she?
- The Coming of the Crow
- Lizard Lady
- Shut up! Shut up!
- Shorty's Lament
- Kamakazi Lady
- Secret Seed
- Sorry
- Smelly Tounges
- Monkey and Bunny
- Farmers
- Sinister Exaggerator
- Hello Skinny
- Die in Terror
- Loss of Innocence
- The Sleeper
- Satisfaction
- Final Confrontation (Excerpt)
- The set came with a four page booklet.
- The first pressing had "manufactured in Japan" on the disc and back tray, but it was issued for the US market. Soon after, presses were manufactured in the USA. 
Ad blocker interference detected!
Wikia is a free-to-use site that makes money from advertising. We have a modified experience for viewers using ad blockers

Wikia is not accessible if you've made further modifications. Remove the custom ad blocker rule(s) and the page will load as expected.