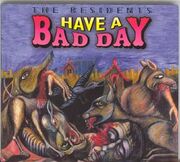 "Have a Bad Day" is an album released by The Residents. It contains the soundtrack for the CD-Rom "Bad Day on the Midway". They were both released in 1996.
Track Listing
Edit
- Bad Day on the Midway
- Dagmar, the Dog Woman
- I Ain't Seen no Rats
- Tears of the Taxman
- God's Teardrops
- The Seven Tatoos
- The Marvels of Mayhem
- Lottie the Human Log
- Ugly Liberation
- Daddy's Poems
- The Red Head of Death
- Timmy
-There is a music video that contains scenes from the "Bady Day on the Midway" CD-rom, and the soundtrack from it was performed live on the "Icky Flix" tour.
- In 2012, The Residents recorded a new soundtrack for the game, called "Bad Day on the Midway (Music from the game reconsidered).
- There is a video mini series based on a character from the CD-Rom, Timmy.
Ad blocker interference detected!
Wikia is a free-to-use site that makes money from advertising. We have a modified experience for viewers using ad blockers

Wikia is not accessible if you've made further modifications. Remove the custom ad blocker rule(s) and the page will load as expected.