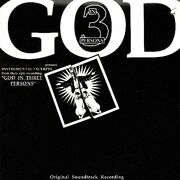 "God in 3 persons" is a story album released in 1987. The story revolves around Mr. X, and two Siamese twins who have healing powers. He falls in love with one of the twins, and he describes the events that occur after he meets the twins. 
Track Listing
Edit
- Main Titles (God in three persons)
- Hard and Tenderly
- Devotion?
- The Thing About Them
- Their Early Years
- Loss of A Loved One
- The Touch
- The Service
- Confused (By what I felt inside)
- Fine Fat Flies
- Time
- Silver, sharp, and Could Not Care
- Kiss of Flesh
- Pain and Pleasure
- There also is an instrumental soundtrack version of the album released in 1988. It was pressed on clear vinyl. 
- A tour was originally planned for this album.
Ad blocker interference detected!
Wikia is a free-to-use site that makes money from advertising. We have a modified experience for viewers using ad blockers

Wikia is not accessible if you've made further modifications. Remove the custom ad blocker rule(s) and the page will load as expected.