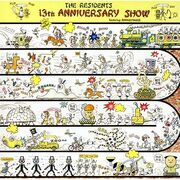 "The 13th Anniversay Show" is the second public live performance by The Residents. It costed less then "The Mole Show", and had little props. Snakefinger played alongside The Residents on the performance. They performed songs recorded from 1972 to 1985. It was orginally going to be called "The Eyeball Show".
Songs performed
Edit
- Intro
- Lizard Lady
- Semolina
- Hello Skinny
- Constantinople
- Jailhouse Rock
- Where Is She?
- Picnic In The Jungle
- Smelly Tounges
- Eloise
- Ship's A Goin' Down
- New Machine
- Tourniquet of Roses
- I Got Rhythm 
- Passing The Bottle
- Monkey and Bunny
- Theme For An American TV Show
- It's A Man's, Man's, Man's World
- Walter Westinghouse
- Easter Woman/ Amber/ Red Rider/ Die In Terror
- Coming of The Crow
- Eva's Warning
- Coming Of The Crow (Reprise)
- The Big Bubble
- Hop A Little
- Cry Of The Fire
- Diskimo (Encore)
- Behind the stage of this show, one of the member's eyeball was stolen. So, he had to wear a skull mask, which became Mr. Skull. 
- This was the last thing The Residents ever did with Snakefinger, because he died of a heart attack in 1987.
- It was a huge success in Japan, so they brought the show to The United States. Both of the performances were offically and unoffically released on vinyl and cassette.