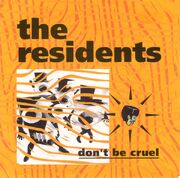 "Don't be cruel" is a single released by The Residents. The A side is a track from "The King and Eye", and the B side has two rejected tracks from the same album. It was released in 1990.
Track Listing
Edit
- Don't be Cruel
- Don't
- Surrender
- Even though "Don't" and "Surrender" were unreleased at the time, both of them have appeared on numerous cd/mp3 compiliations.
- "Don't be Cruel" has a music video.